Jewelry Repair
Our in-store service department, including two Master Goldsmiths, a Certified Gemologist and Watch Technician, is equipped with the latest technology offering you advanced options in all types of repair and refurbishment. Every job is documented and insured against theft or damage. There are no hidden fees, and estimates are always free!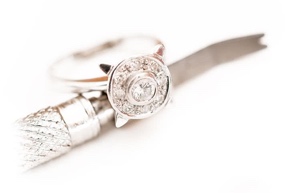 Extend the life of your jewelry with regular maintenance and repair. With many years of jewelry experience, the knowledgeable staff at Continental Diamond offers a variety of repair services meant to ensure that your jewelry looks its best!
Most Requested Services:
Ring resizing
Prong tightening and Re-tipping
New ring shanks
New crowns and set
Soldering rings together
Tightening gems
Gemstone or diamond replacement or refinishing
Chain repair and replacement
Clasp repair and replacement
Precious metal cleaning, refinishing and polishing
Pearl re-stringing
Rhodium plating
Polish and recut diamonds and gemstones
Ring refurbishing
Resetting earrings
Pendant remounts
Bracelet repair
Stop in for a free estimate today!
---
Custom Design & Manufacturing
If you are looking for a unique piece or if you want to update a piece you already own, Continental Diamond's custom design and manufacturing team can assist!
---
Thank you for your estimate request. One of our experienced team members will be in touch with you within 24 hours. If you would like to make an appointment for today, please call 952-593-5602
---

Please feel free to contact us.
We have jewelry professionals ready to assist.